Akim Camara, Rising Child Star
Akim Camara  is a child violinist who is rising to fame. He was born October 27, 2001. Akim started playing at the age of two and took lessons at Marzhn-Hellersdorf School of Music under the instructor Birgit Thiele. At his early age, he was able to remember music that he heard and the names of all the orchestral instruments. Birgit was moved by Akim's remarkable talent and "ear for music" that his teacher started working with the toddler, twice a week.
December 2003, Akim had his first performance at a Christmas concert that Marzhn-Hellersdorf School organized. Akim's instructor and school principal, Gudrun Mueller, messaged Andre Rieu (the celebrity Dutch violinist) through his website. Andre responded by sending a camera crew to Berlin to film Akim at the concert. Andre was fascinated by Akim's gift and asked his family to visit his studio in Kerkrade, Netherlands along with Akim. The three-year old's performance at the studio led him to the opportunity to perform with Andre at Kerkrade's Parkstad Limburg Stadion filled with 18,000 people.
Watch Akim's performance at Parkstad Limburg Stadion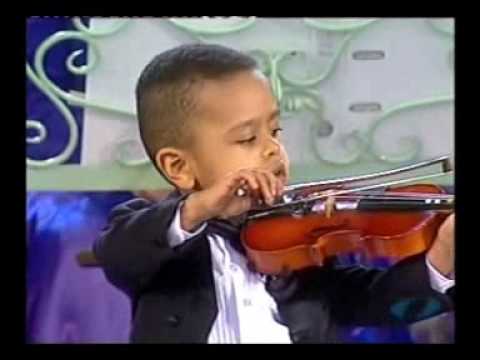 Akim is now performing more complex pieces. He is a child star on the rise!!!!!!