The mother of Gospel, Pastor Shirley Ceasar, celebrated Black History Month at The Apollo Theatre on February 9th, 2014. The event was hosted by Liz Black of WLIB with performances from "Refining Faith" and Amateur Night Winner "Ryta."
Apollo legend, Pastor. Shirley Ceasar is most noted for traditional African-American gospel music, and delivering Christian messages in electrifying songs and sermons. CelebsGotNews.com CEO and Reporter, Taikeya J mingled with visitors (waiting in line) for the Open House concert. When asked, "What is your favorite song by Shirley Caesar?" and "What was it that spoke to your Spirit and touched you?"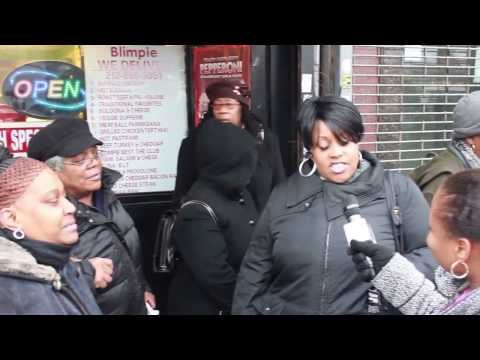 One attendee stated, "What is my favorite…………… is how she came to Christ" and " How she received Christ." Another attendee talked about her brother being saved from Shirley Caesar's ministry. The people of the New York City community were anxious and excited to be in the presence of Pastor Shirley Caesar.
"I just want to see her, I just want to see her because the anointing is up on her. And she is going to give outta her heart, and she loves God's people."
Shirley Caesar entered the stage singing, 'I remember momma.' Pastor Caesar mentioned suffering the last 3 weeks from a scattered nerve, but she said the Devil was not going to get the best of her. From the moment she took the stage, the attendees were blessed, inspired and entertained.
http://www.dailymotion.com/video/x1cagpw
Amateur Night Winner Ryta and The Liberty singers sang Tasha Cobbs song 'Break Every Chain' and made it their own. "When you meet Jesus, you don't have to be the same way you came. Later, she adds "because I am FREE, I'm Free………ain't no more chains on me" as she poured her heart out when referring to The Lord.
As Ryta Fields sang lyrics to 'Break Every Chain' she interacted with the audience and asked, "what are you going to do?" And the Apollo audience responded "break every chain."
Apollo's Open House concert was a ground-breaking event that ministered to many souls, who entered the theatre looking to be set free.
Follow CGN: @CelebsGotNews on Twitter | CelebsGotNews on Facebook | CelebsGotNews on Pinterest | CelebsGotNews on Tumblr